The Moerdijk industrial site, Port of Moerdijk and security company Securitas use drones to continuously monitor all kinds of safety aspects. This marks the start of the next phase of their drone pilot project. The pilot is a showcase for the use of drones in improvement and professionalization of the security of the Moerdijk port and industrial estate.
The drone project fits in with the ambition of the Moerdijk Port Authority to excel in the security of the port and industrial estate. In order to get there, various projects have already been completed in recent years and measures have been taken in which technological innovations play an increasingly prominent role.
In addition to the new network of security cameras, more and more remote sensing means such as sensors in roads, on railways and under water are being used. The necessary experience has already been gained with the use of this technique. The drone project is the next step to discover how remote security and monitoring can contribute to further improvements.
Advantages
The use of drones offers several advantages. For example, in the event of a burglar alarm, a drone can help facilitate detection, tracing and arrest by means of video images. In the event of a fire, the drone can provide the fire brigade of the Central and West Brabant Security Region with additional information that is useful for the deployment strategy. Drones can also further improve site inspection and maintenance.
The use of drones and their associated sensors provides better and faster information. In addition, there is cost control in the area of ​​safety. For example, by preventing incidents and the timely discovery of necessary maintenance to, for example, the infrastructure. The costs of unnecessarily deploying security personnel will also be reduced.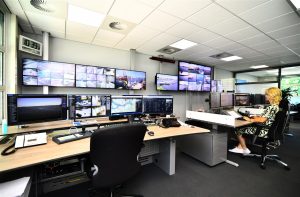 Scope
In the pilot project, the scope is focused on the use of drones for alarm verification, which primarily concerns the follow-up of burglar alarms. This involves not only testing the technology of drones and the video camera linked to them, but also examining how this new tool can be anchored in the total security concept of the port and industrial estate.
Finally – that is the ultimate goal of the pilot – it is investigated with which information the drone collects during its flight, the security of the terrain is best served. This concerns data with which the port authority can optimally manage the safety of the port and industrial estate.
Images: Port of Moerdijk