Knightscope, developer of security robots, has announced that it will be listed on NASDAQ under the ticker symbol "KSCP." Knightscope based in Silicon Valley, and builds fully autonomous security robots that deter, detect and report. Their ambition is 'to make the United States of America the safest country in the world'.
Although it never mentions names of clients, it has also announced some new customers of its security robots. One of them is a casino that will be monitored by a robot. In a statement the robotmaker says When the threat of criminal activity is as high as the stakes at the card table, it's important that facilities are properly monitored. The flow of people and money is constant, upping the risk of incidents. But with the proper tools, like the K5 Autonomous Security Robot (ASR) that will soon patrol this new California casino, such worries are curbed, and the thrill and enjoyment of the gaming experience prevails.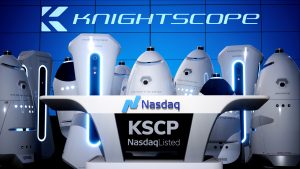 Anotrher client of the robots is 'one of the largest finance companies in the nation', where Knightscope channel partner Securitas  added a Knightscope K5 to its security program. This K5 Autonomous Security Robot will be patrolling a newly constructed parking structure in an effort to help deter car thieves, loitering and criminal trespassing.