On a clear day, the Global IBM Watson Center Munich offers a magnificent view over Munich and into the Alps. On the 22nd and 23rd floors of the glass tower, cloud AI solutions are demonstrated on real use cases. Until March 2020, visitors from all over the world came for hands-on experience with the AI-controlled robots in person: customers, partners, the press, including myself, on several occasions since the opening in 2017. But then came Corona. And I asked myself: How do you manage such a global know-how center in these social distancing times?
With distance and mask I was allowed to ask four IBMer in November 2020 live in the Munich Highlight Tower 1: Annette Hodapp, Elena Kotljarova, Kerstin Pehl, and Wolfgang Rodler, who is responsible for the visitor streams from all over the world.
During Covid-19, one should replace personal meetings by Video Conferences as fast as possible
Global IBM Watson Center Munich: The Highlight Towers in Parkstadt Schwabing are among the most modern office towers in Munich
Harald Karcher: To what extent is there still a physical presence of employees, customers and partners in the Central Office?
Wolfgang Rodler: In March we all went into the Corona lockdown, of course. But IBM reacted very quickly and issued a phased plan for all locations from the global headquarters. This specifies the conditions that must be met before the buildings can reopen for customers. The buildings were never closed for employees: With a Manager Approval, they could always get in. Naturally, this was done in accordance with a hygiene concept that was developed in close consultation with the facility management of the Munich Highlight Towers.
Preceding the Corona Lockdown, the Global IBM Watson Center Munich has welcomed about 25,000 guests per year from all over the world. On the right, the Center Manager Andrea Martin
Harald Karcher: So how many employees are still allowed to enter the center?
Wolfgang Rodler: At the moment we are in Wave One, which means that employees who experience a great deal of added value in terms of productivity or innovation through their presence are allowed to enter Highlight Tower 1. There are four levels. At Wave Zero, only the lights go on. At Wave Four, everything goes back to normal as before Corona. Via an online tool, we always know how many people are in the center at any one time, so that we can prevent overcrowding with too few people in between.
Annette Hodapp: Communication with our employees was especially important at the beginning of the lockdown. In a close team we meet every morning in a virtual stand-up where everyone has the space to ask questions about the current situation. In addition, we regularly informed all employees by e-mail and virtual town halls about current developments and asked them about their condition.
Harald Karcher: Can real customer demos of rotating robots be replaced by videos in the cloud?
Elena Kotljarova: We have made all our demos, which until March 2020 had identified us as Watson Center, available virtually: This enabled us to switch our customer meetings very quickly from real-present to cloud-virtual. In concrete terms, this means that we produced many photos and videos, but also developed web applications to present the demos as vividly as possible via web conferences.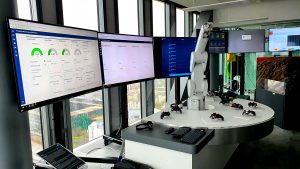 To the COVID-19 lockdown, 25,000 guests from all over the world came annually to experience exciting cloud use cases with AI and robots live. Since March 2020, only very few people are allowed to enter the center. Meanwhile, IBM has produced many videos from the demo stations for customers, partners and other guests and made them available virtually via cloud services
Harald Karcher: How was the acceptance of your cloud conferences?
Kerstin Pehl: IBM employees, but also our partners, were used to working with web conferences in virtual teams long before Corona. With customers, the situation is sometimes different. They often used the beginning of the web conference to enabel customers, be it for Webex itself, but also to get their appetite for other collaborative tools, such as Mural. This is a virtual cloud whiteboard on which we develop ideas together with customers, but also IBM internally: These are then immediately stored for the next cloud meeting.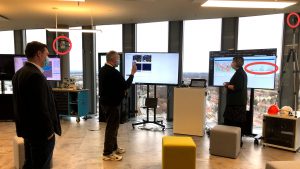 Thermal imaging cameras (red circles) are detecting people with fever or not wearing masks. IBM Watson AI is drawing analytics curves (red ellipse) and giving loud alarms if something is not corona compatible. People from left: Wolfgang Rodler, IBM. Harald Karcher, RockingRobots. Elena Kotljarova, IBM.
Harald Karcher: What does the hygiene concept in the central building look like? Distance rules in offices, demo and conference rooms? Elevator, toilets, reception, disinfectant dispenser, air filter?
Annette Hodapp: Our beautiful, fast elevators may only be used by two people at a time. All employees register online when they come to the office. This also applies to ensure traceability if employees become Corona-positive, which fortunately has not happened yet.
High-speed elevators with panoramic view: To the north, for example, to Microsoft, IDG, Amazon and the Allianz Arena. To the south, across Munich and into the Alps. Since Corona, only two people are allowed to board the elevator at a time, and only with a mask on
Wolfgang Rodler: We have distance markings on the floor. Each conference room is clearly marked with the maximum number of people it is open to. Employees receive two fresh face masks a day, so that they can change masks at any time.
In front of each meeting room the occupancy limit is given (Picture: IBM)
Kerstin Pehl: Large symbols indicate which workstations are released, which chairs are allowed to sit on, which distance must be maintained in wet rooms.
Every second office chair has been given a big red X. Nobody is allowed to use it anymore to keep the minimum distance of 1.80 meters (Picture: IBM)
Elena Kotljarova: There is also a possibility to disinfect your hands when entering the building and on all floors.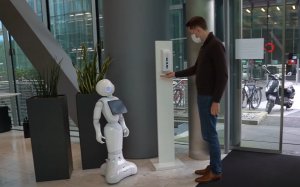 On the entrance you can disinfect your hands (Picture: IBM).
Wolfgang Rodler: The distance rule here is six feet, that is 1.80 meters. Each room has little signs, which you turn around when you leave the room. Then the cleaning staff also knows that the surfaces here have to be cleaned and disinfected.
Annette Hodapp: We always keep the mask on unless we eat. But we also have individual rooms where you can take off the mask, for example for a long telephone conference.
Robot Pepper explains right at the entrance how to put on and wear a face mask properly (Picture: IBM).
Kerstin Pehl: Air cleaning filters were already installed before Corona. They are located directly in the air conditioning systems. The air is also permanently measured: We have very good values there, especially now, in Wave One, where only ten percent of the people are allowed in the central office anyway. With a very high occupancy rate, it could overtax the air conditioning and filter system. Then you would also have to ventilate proactively.
Annette Hodapp: All employees were asked to complete an online training course on how to behave hygienically on the way to the office and in the office, how to correctly take off and put on the mask when you want to eat something.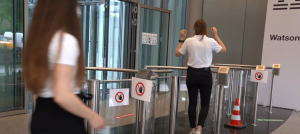 Please keep a distance of at least 1.80 meters when entering and leaving the building, and if possible do not touch anything (Picture: IBM)
Harald Karcher: Which employees only work from home? Who has to come in physically?
Wolfgang Rodler: Nobody MUST come in. The well-being and health of our employees is our top priority.
Harald Karcher: Were the home offices technically ready for the employees to start right away?
Wolfgang Rodler: Yes, many IBMers have been working in distributed teams for years, so virtual working as IBMers has always been in our DNA. We use Lenovo ThinkPads and Apple MacBooks. The former with Windows 10, the latter with iOS. The employees can choose for themselves. But the vast majority prefer a MacBook.
Harald Karcher: Didn't you have to improve Internet, WLAN, VPN, laptops, monitors in the home offices?
Elena Kotljarova: WLAN, VPN, laptops were already there for all employees. Of course, there were also some who preferred to come to the office because the Internet line at home was weak, because about two full-time employees had to share the line at home with the children who had online homeschooling. Some also borrowed an office chair from the Watson Center so that their backs did not suffer. Or a monitor, because the picture on their laptop is too small for them in the long run.
Harald Karcher: Which video conferencing tools do you use?
Kerstin Pehl: Webex, but the camera may be switched off. However, if our partners, customers or journalists prefer zoom, teams or other tools, we can of course also participate. Most IBM employees use the built-in camera on their laptops. But some of them also have high-resolution cameras connected via USB. We also have no problem with a child waving into the camera or the dog barking in the background.
Harald Karcher: Are you allowed to show your own video backgrounds in your cloud conferences?
Elena Kotljarova: Yes, very much so. The colleagues from marketing have done a very good job. They created backgrounds from our offices and from the robot demo zones. We can then display them in our video calls and conferences in a context-related manner. Even our global IBM CEO, Arvind Krishna, often likes to show a background just from our Watson Center here in Munich. Since then, our Munich backgrounds have also been in great demand among IBM employees worldwide.
Wolfgang Rodler: Our German CEO sent a package to all employees right after the lockdown. It contained two IBM posters for wall mounting and a name tag, for example Wolfgang's HomeOffice. Most of them put this up during video conferences and symbolize that a part of their home has just become an IBM office. This has led to a lot of cohesion among the employees.

Caused by corona-related contact and travel restrictions, hybrid meetings and conferences via cloud platforms are becoming increasingly important (Image: IBM)
Harald Karcher: What role do mixed real-world and cloud virtual meetings play?
Annette Hodapp: Hybrid meetings are becoming more and more important: Our center manager Andrea Martin has published seven good reasons for this. I will summarize them here briefly and freely:
the entry barrier for virtual conference participation is lower. You don't need a lot of preparation.
the costs are lower because there are no expenses for train, car, cab, plane, hotel or expensive catering. So you can even hold larger meetings with a smaller budget.
hybrid events are more environmentally friendly because there is less travel.
in principle there is almost no upper limit for participants. With proper timing, people from all continents and time zones around the world can participate simultaneously. Even event sponsors can reach a larger audience in such scalable meetings than in face-to-face conferences.
in virtual meetings, you have to focus even more on very good content so that participants don't run away. After all, you can't tempt them to stay with delicious buffets.
hybrid meetings can be recorded very easily. Later, you can make them available on-demand to people who were previously unable to attend.
some event organizers are concerned that hybrid cloud events will cannibalize true presence meetings in the future. I believe in the opposite: at some point the COVID 19 pandemic will be over. Then people will remember good hybrid events and will once again appear face-to-face live in person.
No live events, No guest catering: This picture was taken before COVID-19 arrived in Munich
Harald Karcher: Do you use motivation boosters to participate in video meetings? For example, coffee care packages for customers, partners or employees?
Wolfgang Rodler: We try to keep in permanent contact with our employees. We also ask the participants anonymously in a virtual townhall meeting how they are doing:
is still doing quite well
does not go so well, or
I need concrete help
We recognize the needs of our employees. We offer training on mindfulness and resilience. There are also offers from our company medical service that are specifically aimed in this direction.
Kerstin Pehl: We encourage our employees to take care of themselves. Telephone conferences can be held while taking a walk: Especially in the dark season it is important to get away from your desk during the day.
Elena Kotljarova: Developers sometimes get a pizza sent to hackathons, like recently. But we only do such actions nationwide. We're a global center, but it would be too expensive to send pizzas to developers in Hong Kong.
Wolfgang Rodler: We have planned similar activities for our Christmas party, without saying too much to keep the surprise in mind. But we'll send a package to the employees, meet in a Christmas video conference and then unpack it together.
Harald Karcher: How is the Corona-related home work being received? Rather joy? Rather loneliness? Does the usual productivity and creativity continue normally?
Annette Hodapp: We were and still are all full of action. Although we miss the face-to-face contact between the employees, we also enjoy a bit more flexibility and free time by working from home. The daily commute to work in the center is also eliminated.
Wolfgang Rodler: We did a mural workshop right at the beginning of the lockdown to gather ideas against loneliness. The following actions are some of the results:
Contact with neighborhood help here in Parkstadt Schwabing: For example, to print out school materials for children who do not have suitable printers at home.
We have produced videos to keep people happy.
Every week there is a coffee chat with our center manager Andrea Martin, where everyone can talk about topics outside of IBM.
Online sewing courses for masks and a cooking recipe exchange
Sport challenges, some of them deliberately from Monday to Friday, so that you get enough exercise during the week.
Elena Kotljarova: Our team has also arranged to meet via Webex for an hour just to play, to counteract the danger of loneliness.
Kerstin Pehl: Other teams arrange to meet for a coffee break for a quarter of an hour every day. There is a lot going on at team level. From the global CEO who regularly does his "Ask me anything sessions", to business line leaders, to individual team leaders, there are many communication offensives so that we don't get lost in the work at home.
Harald Karcher: In the end, have employees actually become more productive thanks to HomeOffice? Which ones?
Wolfgang Rodler: It depends less on the role than on the type of work: In Design Thinking Sessions, for example, we can work very productively with our customers. Here we use Mural as a tool. It allows you to put together virtual groups very quickly. Posts can be written on the laptop even faster than on physical whiteboards, and posts can be moved even faster than in real brainstorming sessions.
Harald Karcher: Are there also disadvantages of working from home?
Wolfgang Rodler: The quick, spontaneous conversation between employees from completely different departments in the coffee kitchen is missing a bit.
Harald Karcher: How does HomeOffice work with family and kids?
Annette Hodapp: The Corona crisis makes it particularly clear that IBM is a strongly value-driven company. This has a very positive effect on me and on all of us IBM employees. For example, our global CEO Arvind Krishna called for "Work from Home Pledges" at a very early stage. These say, for example: "Family comes before IBM". Or: "You are welcome to turn off the camera during meetings from the home office".
Kerstin Pehl: There were countless offers for our kids: For example, Andrea Martin and Stephan Osthues organized a virtual fairy tale lesson and read a story about the Easter Bunny at Easter: "5 Letters to Henry".
Annette Hodapp: Many IBMers offered an hour of IBM TV program for children between the ages of eight and twelve, such as: "How do I program a Lego robot" or "What will shopping look like in the future?
Elena Kotljarova: Since we are good with online tools ourselves, we offered "Webex for Kids" to local schools and trained teachers and children how to use them.
Wolfgang Rodler: All in all, we are coping very well with this corona period. We, too, have developed technologically: The customer no longer has to travel to our center to use our center capacities. They can do this from home, and the number of participants can even increase.