Rocking Robots recently travelled to the Danish city of Odense to visit several institutions and companies that are part of the very successful Robotics Cluster. This photo series gives an impression of the diversity of this robot-ecosystem.
The robot that started it all: Japanese welding robot from the Maersk Shipyard, now on display at the Faculty of Engineering of the University of Southern Denmark.
The origins of the Odense robotics cluster can be traced back tot he Maersk Shipyard that was based there. At this shipyard Japanese welding robots were used to build the ships. When the shipyard had to close the owner worked together with the University of Southern Denmark to establish a center of robotic knowledge to support the Odense community. After the subsequent founding of several successful robotics companies this became the Odense Robotic Cluster.
At the Faculty of Engineering of the University of Southern Denmark students learn to design and operate robots.
This large industrial robot is designed to make composite material, which can consist up to 100 layers that need to be fixed together seamlessly. Composite materials like these are for example used on the F35 Fighter Jet.
This drone is developed at the Faculty of Engineering for the autonomous inspection of power lines. An innovative feature on which the students work is the use of magnetic fields near these power lines to charge the drone while flying.
Turning ideas into a profitable robotics business at the Danish Technological Institute & Odense Robotics Start Up Hub:
The Danish Technological Institute (DTI) tries to turn research into a profitable robotics business. With considerable success. Last year 350 projects generated a revenue of 146,6 million euros. The institute serves 12,000 customers in 62 countries.
The Odense Robotics Startup Hub is an incubator, housed in the offices of the DTI, as it has the same goal: helping 'from concept to commercial success'. This publicly funded entity provides free services to help robotic companies with their initiatives.
Mikkel Christoffersen, CEO at Odense robotics, explains several initiatives of the Robotics Startup Hub.
One of those initiatives is Sub Blue Robotics, which has developed a robot to clean the propellor of large ships, so they don't need a diver to do this dangerous work. This is all the more important because in some ports it is not allowed to use divers.
An Odense success story: Blue Ocean Robotics and its three robot-daughters: UVD Robots, PTR Robots and GoBe Robots:
Disinfection with UV by autonomous robots has shown a remarkable growth during the pandemic. The Blue Ocean/UVD robots are used worldwide in hospitals, hotels and other venues.
CEO Per Juul Nielsen explains how the market for professional service robots will grow 300-400 % in the next five years, reaching up to 150 billion dollar in 2026.
Taking robots to the skies: UAS Test Center Denmark at Hans Christian Andersen Airport:
As drones become increasingly autonomous, more space is needed to test these flying robots. This space is provided at Odense Hans Christian Andersen Airport with an available airspace of 3,000 kilometers, the largest drone testing area in Europe. The reason for this available airspace is the building of the Great Belt Bridge between the islands of Zealand and Funen, which dramatically reduced the number of flights from Odense airport.
One of the companies operating from HCS Airport is Nordic Unmanned, which provides services like data capture with drones using military grade drones. They fly for large governmental and industrial clients, and test their equipment at HCA Airport.
The exponential growth in the use of drones necessitates more protection against malicious use of drones. The doppler radar of Weibel detects both large and very small drones, which can be detected with this technology at a distance of up to 7.5 kilometers. The technology of Weibel is used by a broad range of customers, including NATO for its Ballistic Missile Defense.
Another success-story: Mobile Industrial Robots (MiR), just like Universal Robots acquired by US automation giant Teradyne: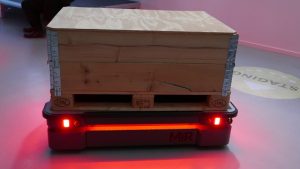 Mobile Industrial Robots (MiR), manufacturer of autonomous mobile robots (AMRs), experienced a 42% increase in sales in 2021 over 2020. Since MiR launched its first robot in 2015, the company's products have proved especially popular in the automobile and electronics industries, with major multinational customers such as Toyota, Ford and Faurecia. While these markets continue to invest in MiR AMRs, MiR now also sees strong sales from companies within the logistics and consumer packaged goods (CPG) sectors wanting to optimize and automate their internal transport.
All pictures: Copyright Mediabureau Leiden BV
See also
Rocking Robots reports from the Odense Robotics Cluster, part 1
and
Rocking Robots reports from the Odense Robotics Cluster, part 2