Beyond Imagination, in conjunction with Dr. David Wensel at TRU PACE (Program of All-Inclusive Care for the Elderly) Center in Lafayette, Colorado, started the first planned real-world test of their newly completed, fully functional Version 1.0 robot known as Beomni. This is the first public trial of Beomni, an advanced humanoid robot with an evolving AI brain aimed at tele-medicine.
The pilot study, which ran from November 9th through November 12th, consisted of Beomni interacting with both medical personnel and clients at the center. The purpose of the pilot was to leverage the capabilities of the robot to perform tasks relevant to medical care scenarios, specifically those related to assisted living facilities.
Dr. David Wensel is Chief Medical Officer at TRU Community Care. His expertise is in hospice, palliative care, and home health. "Beomni impressed and delighted both staff and clients alike and exceeded everyone's expectations. We are looking forward to further studies with Beomni in the PACE health network because I believe that Beomni will play a big role in the future health of our seniors," Dr. Wensel said.
Potential
Dr. Harry Kloor, CEO and Founder of Beyond Imagination said, "We are excited that PACE sees the almost limitless potential of our humanoid robots in healthcare and agreed to run this first pilot study with us. We look forward to continuing to partner with them to bring a highly effective solution to market."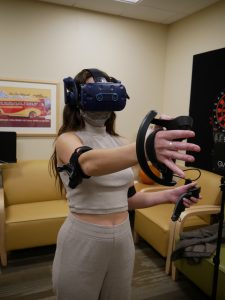 Beyond Imagination's robots are operated via a human partnership with an "AI Brain" that augments and enhances human capabilities. This AI includes multiple "lobes", each related to a specific skill or set of skills that the robot can perform.
Personnel shortages
According to Dr. Kloor, Beomni will provide the ultimate in "continuity of care" through its Beyond Whole Health turnkey clinic solution. This will enable people to see their own physicians where they shop, work, and live. Not only will you be able to keep your doctor — you'll also be able to see them wherever you are. Ultimately, Beyond Whole Health will be available in homes, finally allowing doctors to make house calls once again.
Dr. Wensel says that every day personnel shortages negatively influence his medical practice. With the Beomni platform, it will be possible to deliver better care, more quickly, to more locations, enabling his practice to serve patients more efficiently. Also, with the increasing shortage of homecare services available, this technology will allow frail seniors to live more independently and safely in the community for a longer time. "I believe in this technology because it will allow our practice to be more cost effective, deliver better healthcare faster, and most importantly improve the quality of life for all of our patients," he says.