Ils se distinguent par leur faculté de monter sur les étagères et de préparer les commandes de façon autonome. Les robots Skypod d'Exotec sont conçus et fabriqués à Lille. Il soutiennent la logistique de grandes enseignes comme Carrefour, Cdiscount, Decathlon en Europe, au Canada, aux USA et au Japon.
Exotec conçoit un système robotisé personnalisable de préparation de commandes. Ses petits robots évoluent dans les entrepôts en trois dimensions : ils roulent au sol entre les allées et se hissent jusqu'à dix mètres de hauteur, guidés par des rails, pour aller chercher les articles à livrer.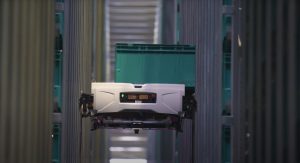 Le système Skypod est évolutif : par adjonction de nouveaux robots, on augmente la cadence. Il concrétise le 'good-to-man', cette logistique qui apporte le produit à l'homme pour diminuer la pénibilité de son travail. Chaque robot Skypod grimpe jusqu'à 4 mètres par seconde et supporte une charge allant jusqu'à 30 kg. Autonome, il reconnaît son chargement grâce à un contrôle continu en temps réel. Autre particularité, le robot français fonctionne dès 0°C, avec une empreinte énergétique très légère, jusqu'à 80% inférieure à celle de solutions automatisées traditionnelles.
La double fourche bientôt en action chez Lacroix
Lacroix, expert français de la conception d'ensembles et de sous-ensembles électroniques, a retenu Exotec, pour son activité de fabrication électronique. Il s'agit de robotiser Symbiose, sa nouvelle usine 4.0 en construction à Beaupréau-en-Mauges (Maine-et-Loire). Opérationnelle fin 2021, l'usine du futur de 16 000 mètres carrés prévoit une tour de stockage de 9 mètres de haut.
Les responsables de l'activité Electronics de Lacroix confirment que le système Skypod alimentera bientôt les lignes de production. Pour accéder à un bac stocké derrière un autre bac, une double fourche équipera chaque robot, permettant d'accroitre la densité des racks de 20%.
Romain Moulin, cofondateur et Président d'Exotec, répond à nos questions sur la percée rapide et mondiale du Skypod.

Rocking Robots : Qu'est-ce qui a déclenché la création d'Exotec ?
Romain Moulin : Avec Renaud Heitz, directeur technique et cofondateur, nous avons créé Exotec en 2015 sur un constat. Le géant Amazon a décidé de conserver ses robots, acquis avec l'entreprise Kiva Technologies en 2012, pour lui-même. D'après nous, c'était un signal confirmant que la robotisation de la logistique apportait un gain de temps significatif, donc potentiellement, un avantage concurrentiel aux cybermarchands, aux industriels et aux entrepôts de la grande distribution. A présent, nos clients reviennent tous les deux ans avec un nouveau besoin de préparation de commandes supplémentaire. Nous leur suggérons d'augmenter progressivement leur flotte de robots, suivant un investissement qui évite toute prise de risque dans le futur. En 2020, nous avons réalisé 47 millions d'euros de chiffre d'affaires et notre objectif 2021 consiste à dépasser les 100 millions d'euros avec un effectif qui devrait atteindre 360 salariés en fin d'année.
RR : Le succès international d'Exotec se confirme depuis six ans. Comment l'expliquez-vous ?
Romain Moulin : Nous avons sorti le bon produit, au bon moment sur un marché en forte croissance. Avec l'envol du commerce électronique et avec des responsables de magasins souhaitant stocker de moins en moins de marchandises, le marché de la logistique a explosé. Les besoins de préparation, de picking automatisé à la pièce, sont devenus colossaux. Pour tenir la cadence, les entrepôts devaient embaucher une armée de préparateurs, ou bien adopter des robots capables d'assurer une très bonne qualité de service. Nous proposons justement une flotte de robots performants et flexibles, un système évolutif dans lequel les cybermarchands et les industriels sont prêts à investir.
Nos principaux axes de croissance à présent sont les USA et le Japon, pays déjà très automatisés. Nous gonflons nos équipes sur place pour répondre à de vastes besoins, ainsi qu'aux Pays-Bas, un de nos pays de prédilection en Europe où nous comptons déjà pour clients Decathlon, Uniqlo et Ceva Logistics.
RR : Quelle est votre stratégie pour convaincre les clients internationaux ?
Romain Moulin : Notre vision consiste à fournir les briques technologiques capables de couvrir tout l'entrepôt, d'un bout à l'autre. Notre logiciel de contrôle est connecté au WMS (Warehouse Management System, le système de gestion d'entrepôt). Il peut suivre l'assemblage des commandes dans un ordre précis, grâce à ses algorithmes proches du Machine Learning et de l'IA, des techniques d'optimisation fondées sur les mathématiques. C'est le même logiciel qui gère les flottes de 10 à 200 robots.
La flexibilité et les performances doivent être réunies à chaque étape du process de l'entrepôt. Nous misons donc sur l'ouverture, la modularité et la standardisation du système. Tous nos robots Skypod sont compatibles entre eux. Tout l'enjeu consiste à parvenir à répondre à des besoins spécifiques à partir de robots standards. Le module SkyPicker assure déjà le picking automatisé. Un autre module sortira en mars 2022. Nous produisons nos robots en série avec une Supply Chain très qualifiée. C'est pourquoi nous misons sur des partenaires technologiques proches, comme Ciuch Solutions basé à Tourcoing qui fournit des bras robotisés, palettiseurs, racks techniques et pièces de robots.
RR : Comment équipez-vous les sites et quels modèles économiques proposez-vous ?
Depuis notre QG à Lille, nos robots sont testés, validés puis envoyés sur chaque site du client, afin qu'il déploie en six mois seulement, ce qui exigeait trois fois plus de temps auparavant. Néanmoins, chaque client dispose d'entrepôts différents. Nous exerçons donc aussi le métier d'intégrateur. Hors de France, nous disposons d'intégrateurs de proximité qui assemblent la solution complète et à qui nous livrons le robot Skypod sous forme de pièces détachées.
Au niveau des achats, le client préfère souvent un modèle d'investissement classique, afin de diminuer ses dépenses Opex. Nous proposons nos robots en location si nécessaire, ainsi qu'un modèle « full service » pour plusieurs milliers de lignes par heure car nous croyons que ce n'est pas le métier du client de gérer la montée en version de linux dans ses robots. Avec ce modèle d'abonnement, le client évite toutes surprises techniques. Il est plus confiant et serein.
RR : Quels sont les profils que vous recherchez pour soutenir votre développement ?
Romain Moulin : Nous embauchons des ingénieurs en robotique, hardware, software et mécanique et, pour notre département exécution, des ingénieurs et techniciens de terrain focalisés sur l'assemblage, les tests et la maintenance.
Photo: Exotec co-founders, on the left, Romain Moulin, president of Exotec and Renaud Heitz, CTO.