Events DC, a convention and sports authority for the District of Columbia, announced it has deployed an ADIBOT disinfecting robot at Walter E. Washington Convention Center to create safe meeting spaces and protect guests and staff from harmful pathogens, including COVID-19.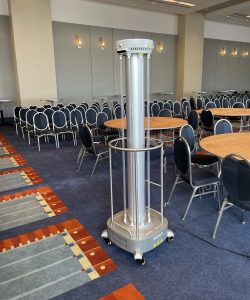 The ADIBOT disinfecting system leads the facility's protocols which also includes the implementation of a Dry Hydrogen Peroxide HVAC system, antimicrobial and electrostatic spraying and best-in-class air filtration. The ADIBOT system by UBTECH is armed with hospital-grade UV-C technology which inactivates 99.9% of all viruses, bacteria, and mold spores, including COVID-19, influenza and MRSA.
The ADIBOT disinfection system is currently deployed in over 500 buildings, with over 200,000 employees, students and staff daily in school districts, office parks, and convention centers across the country.