The popularity of process mining rapidly increases: more and more companies embark on a process mining journey, new vendors are entering the market and introduce new features, and multiple dedicated conferences are being organized. In this article Ekaterina Sabelnikova presents a selection and portfolio management approach for process mining in Philips. Also get familiar with Ekaterina's article where she shares the lessons learnt during implementation of process mining in Philips.
It is exciting to see the spectacular developments in process mining, and as this discipline evolves, a lot of companies and academic researchers develop methodologies that allow professionals and organizations to conduct process mining projects.
From a brief analysis that we conducted it came forward that most process mining methodologies start with the planning stage, where the process to be mined has already been selected and the mining project is being initiated. The available methodologies miss the step before a process mining project is started, namely the structured approach to select and prioritize candidate processes to be mined.
Large companies have dozens or even hundreds of standard processes that can potentially be mined. In this article we share a selection and portfolio management approach for process mining that we introduced in Philips.
Why we need a portfolio management process for process mining
Portfolio management links the execution of an organization's projects to the achievement of its strategic goals. A portfolio management process ensures that we do the right things and it enables us to select projects that contribute the most to the overall strategy and bring the highest value.
The visual below demonstrates the immediate impact and poor end result of ineffective portfolio management in the area of process mining.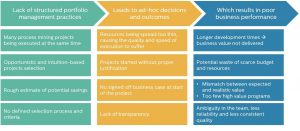 To overcome these challenges, we have introduced a formal selection and portfolio management approach for process mining, which answers questions such as:
How to ensure that the selected process mining projects are aligned with the overall strategy?
How to pick the processes that will deliver maximum value?
How to ensure the resulting value will be worth the investment?
How to prioritize processes from the set of business processes to be mined?
How to build a roadmap of processes?
How to optimize the utilization of limited organizational resources?
How to assess if process mining is the most suitable approach for this process?
How to determine if the process can be mined (feasibility)?
This approach provides a repeatable process for prioritizing, selecting and executing process mining projects.
The portfolio management process for process mining
The designed process consists of two phases: first phase helps to choose the right candidate processes for process mining and the second phase aims to prioritize the shortlisted projects. The two phases are explained in detail below.
At the moment, we have instrumentalized only the Phase 1 of the designed process, but we are on the journey to implement Phase 2 as well.
Phase 1: Initial screening
Requests for new processes to be mined are the input to this phase. These requests come from various sources, but in most cases from process owners who have learnt about process mining and would like to apply it to their respective processes.
The goal of this phase is to create a shortlist of new process mining project candidates with the highest potential, so they can be prioritized later on.
During the initial screening we, in collaboration with the business process owner, conduct a quick assessment of the nominated processes based on three questions:
Have we already identified known pain areas and issues in this process?
Is Process Mining feasible, both as a tool and technically (e.g. data access, quality & availability), for this process?
What can we say about the expected savings?
Q1. Already known process issues help to understand in which areas and aspects of the process we can gain valuable insights using process mining. Here you can consider link to other organizational initiatives tackling the same issues.
The number of people involved in the process execution provides an indication of the size of the process and impact the improvements can have.
Answering this question, you should also consider the organizational readiness for change as an aspect – is the organization ready for change and are they eager to adopt?
Q2. Feasibility of using process mining is also a very important factor. We look at this from two perspectives. Firstly, we look at whether process mining is the right technique to get insights in the identified problem areas. The answer can be that traditional data analytics, RPA, lean methodology, or other techniques are better suited to address these issues.
A number of articles mention the amount of data produced by a process and quality of event data as the only factors driving selection of processes to be mined. Based on our experience, more factors should be taken into account.
Data is the basic prerequisite for being able to analyze a process using process mining. We look at the data produced by the process and answer questions such as: does the process run through an IT system? Does the process have a high number of repetitions? Does the IT-system through which the process runs register the process in a log file, or is it possible to create such a file using the available data? Does the process consist of a structured sequence of the activities? Can we define a unique case identifier in the process, e.g. sales order line? Does the system record time stamps? If a process fulfils these points, it represents a good candidate for analysis.
Q3. We seek to understand upfront the expected impact from mining a specific process, e.g. by looking at the amount of manual labor involved in the process area to be mined and other saving opportunities in the areas of performance (e.g. speed up process), conformance (benefits of having standardized process) and compliance (particularly important for audit).
This first level screening results in a numerical score for each project that is used for ranking the projects. The highest scored processes are added to a shortlist for more detailed qualification in the next phase.
For now, we have performed initial screening of the processes. In the next section I explain Phase 2 of the designed portfolio management process in theory and the next challenge for our process mining team is to apply it in practice.
Phase 2: Scoring and prioritization of the shortlisted processes
There are constantly more requests to mine new processes than resources to complete them, as such it is vital to know the relative importance of a set of projects to ensure that scarce resources are directed towards the highest value-adding projects.
We have designed a scoring model that enables a multidimensional view on the portfolio of process mining candidates.
The exact criteria of the scoring model should be tailored depending on the organization, its strategy, business challenges and needs. Here is how the generic model would look, remember that it is important to consider multiple evaluation criteria. In the past, expected financial benefits would be a singular way of measuring project value. Although this remains one of the critical criteria, the scoring model includes additional intangible (qualitative) factors. Typical scoring qualitative criteria are strategic alignment, risks, availability of expertise, and organizational capabilities to execute.
A heat map is one of the results of a scoring exercise and provides a clear insight into 'winning' and 'losing' projects.

The scoring model provides data driven insights but actual value comes from collaboration and discussion in a cross-functional team of process owners and experts, senior management, data engineers and process analysts.
As process mining project requires substantial time allocation from process experts, the process mining roadmap should be aligned with an improvement roadmap of the respective process. This upfront alignment assures that process expertise and dedication of process experts – both crucial factors for project success – are available.
The result of Phase 2 is a new process mining project roadmap. This roadmap defines the sequence of process mining projects in the execution pipeline.
It is important to remember that process mining portfolio management is not a one-time exercise but rather a dynamic process, as continuously new projects become candidates to belong to the portfolio and scoring of existing projects might change with new available insights.
Introduction of the structured process to select and prioritize processes for process mining analysis allows one to focus on the essential business processes and transform an organization in a purposeful way.
Ekaterina Sabelnikova is Innovation Consultant at Philips Innovation Services
See also: