Today, the Consumer Electronics Show (CES) kicks off in Las Vegas. A total of 130 companies, including various robotics and AI providers, will present their offerings to a partly physical and partly online audience. A number of major tech companies have declined to participate due to the Covid pandemic, including Facebook/Meta, Amazon and Twitter.
One of the robotics participants is Aziobot, nominated for this year's CES 2022 Innovation Awards. The company presents the latest version of its UV disinfection robot, the ADIBOT-A. This  is the evolution of UBTECH's launch into UV-C disinfection robots, having introduced a stationary version of ADIBOT in 2021. ADIBOT-A can be programmed and mapped with UBTECH's U-SLAM software to independently navigate one or multiple floor plans to disinfect against harmful pathogens, bacteria and viruses, including COVID-19.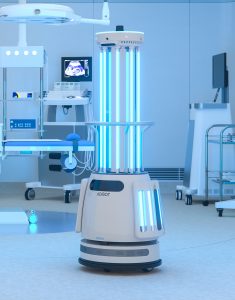 AI
The software utilizes AI algorithms to also generate optimal disinfection paths and navigate obstacles from the very first disinfection session creating automatic autonomous routes with key disinfection points. ADIBOT-A provides 360-degree radiant light coverage, powerful UV-C disinfection, and intelligent safety features, including the use of AI enabled risk mitigation cameras, two LiDAR systems, multiple PIR sensors and sensor enabled safety signage. UBTECH's ADIBOT disinfection systems are currently deployed in over 500 buildings.
According to the vendor, COVID-19 will likely not be the worst pandemic the world will experience this century, with alarming epidemics coming every five years since 2000. In addition, according to the CDC, over 1.7 million people per year will experience an HAI (healthcare associated infection) that could potentially prolong illnesses and hospital stays partially due to ineffective cleaning and airborne spread. The ADIBOT disinfection system is providing a solution that helps improve labor costs, reduces human error, and allows essential workforce to work on more important tasks.