Despite the reduced size of CES 2022 there was a wide range of product anouncements on the first day, including several robotics innovations, ranging from autonomous vehicles to cleaning and computer vision.
Delivery
Ottonomy unveiled Ottobot, a fully autonomous delivery robot for both indoor and outdoor environments. Ottobot uses contextual mapping and navigation technologies in restaurants and retail industries. The fully autonomous delivery robot already serves at CVG Airport, Cincinnati. In December 2021, Presto, provider of restaurant automation technologies, announced that their partner restaurant guests will be able to order using Presto's technology and have the food delivered via Ottonomy's robots.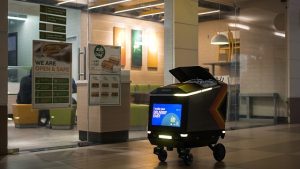 Mobility
Hyundai Motor unveiled a plug & drive robotic module to enable 'Mobility of Things'. This modular platform enables mobility of traditionally inanimate things, from small objects to large community spaces. This fits into the vision of Hyundai Motor and its daughter Boston Dynamics of a shared vision for robotics in both the real world and metaverse under the main theme 'Expanding Human Reach'.
The PnD modular platform is an all-in-one mobility solution that combines intelligent steering, braking, in-wheel electric drive and suspension hardware. The single wheel unit uses a steering actuator for infinite wheel rotation, meaning it can turn 360 degrees, which enables holonomic movement, like a figure skater. LiDAR and camera sensors allow a PnD-enabled object to move autonomously.

Cleaning
Roborock introduced the S7 MaxV Ultra, an robot vacuum system featuring a multipurpose dock that empties, washes and refills itself.

Food
Nasoya, with parent Company Pulmuone and Yo-Kai Express offer a Robotic Food Platform at the Consumer Electronics Show. The autonomous restaurant serves gourmet food on demand 24/7, and the companies will be sampling three different dishes through Yo-Kai Express' robotic platform. The meals should be ready in under 60 seconds with the touch of a button.
Cobot
Korean Doosan Robotics, provider of collaborative robots, announced it has become South Korea's first to achieve an annual sales record of 1,000 units for cobots. Established in 2015, Doosan Robotics has manufactured cobots using proprietary technology. The company's global performance accounts for 70 percent of its total sales, with demand continuing to increase from markets including North America and Western Europe.

Computer vision
Ouster showcases digital Lidar for the automotive, industrial, smart infrastructure, and robotics industries. Industry observers have named lidar adoption as a trend to watch at CES, citing rapidly growing demand due to its numerous applications. Ouster and its partners are showcasing several digital lidar applications, including its recently unveiled DF series solid-state lidar sensors for high-volume automotive production programs. Ouster is also featuring its OS series scanning lidar powered by its new L2X chip in simulated fog, rain, and vibration test conditions.