Data-intensive tasks such as managing inventories, processing patient data and scheduling appointments can be handed to software robots, which can process data in a fraction of the time and more accurately than their human colleagues. Robotic Process Automation (RPA) can help healthcare systems overcome the challenges of a post-COVID world. We decided to ask Head of Public Sector UK and Ireland at UiPath, Ian McGregor, for more detail.
First off, Ian, in terms of the UK specifically, do you market to both the NHS and private healthcare?
Absolutely; while they may be funded differently, both require a great deal of patient data to be processed within a care pathway. Regardless of whether a healthcare professional works in private or public healthcare, they will have to handle swathes of paperwork and other repetitive admin tasks on a daily basis, so both the NHS and private healthcare providers can benefit from automation.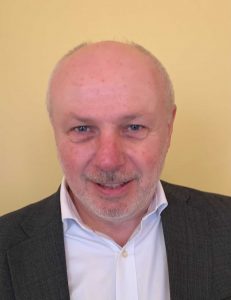 Which is more interested in what UiPath can do for them?
Both are equally as interested in deploying automation, as it is a great tool to increase face-to-face time with patients while not increasing costs. For the publicly-funded NHS this is a particularly attractive prospect, while for the private healthcare sector there is the added bonus of automation assisting with billing and insurance claims.
How is RPA specifically useful in healthcare?
Data-intensive tasks such as managing inventories, processing patient data and scheduling appointments can be handed to software robots, which can process data in a fraction of the time and more accurately than their human colleagues. Software robots can work across departments, making it easier for data to pass securely through the often complicated infrastructure of healthcare providers, which is improving efficiencies in the care pathway while allowing for healthcare professionals to spend more time with their patients.
Sounds good. Can you name any specific UK healthcare engagements?
Our work with NHS Shared Business Service (SBS) is a great example. The organisation provides non-clinical services to around two-thirds of all NHS provider trusts and every clinical commissioning organisation in the UK.
Its first large-scale automation with us involved handing the maintenance of cash flow files for all its 200+ NHS clients to software robots. This process involves gathering data from multiple sources, manipulating spreadsheets and updating databases, which pre-RPA required twenty people and approximately two hours per person a day to ensure the task was completed. Now, a robot completes this in less than five hours, working around the clock to ensure that when employees log on in the morning the cash flows files are already processed.
Freeing the employees from two hours of admin each day means they can now focus on value-added activities, all while their clients benefit from increased consistency. Next, NHS SBS is working to create an entire ecosystem of robots as part of an enterprise-wide IT architecture, as it feels automating entire workflows that stretch across departments and functions is the way forward. This will help to expand its services into patient pathways and other non-clinical activities within its client organisations. We see this is a brilliant example of a customer committed to a vision of saving time and money through delivering world-class digital innovation.
Won't use of 'robots' threaten the important human element of care?
Actually, it's the opposite; robots will take on repetitive and time consuming behind-the-scenes administrative tasks, giving human employees more time in the day to do tasks that require ingenuity and skills. So rather than spending time logging test results, processing patient records or scheduling appointments, say, healthcare professionals can be by their patient's side. Therefore robots can actually make healthcare a more human-centric environment, with the skills of healthcare professionals and the care of patients at its very centre.
As we all have our 'jabs', what do you do with RPA in UK healthcare?
The NHS will have to deal with the  huge backlog of routine surgeries and procedures following cancellations during the pandemic; 4.4 million people are waiting for care, and it could take years for healthcare providers to catch up. We expect to see providers using things like RPA technology they adopted during the pandemic to tackle this—robots that had been processing registrations at COVID test sites, for example, could now be taught how to manage the scheduling of procedures.
However, automation shouldn't only be considered a short-term, tactical solution to pandemic related issues. Pre-COVID, UK healthcare organisations were already using automation as a strategic long-term resource to solve systematic problems and improve how the sector operates. Once the pandemic is over, automation will remain a valuable resource to the sector. Going forwards, we expect to see more UK healthcare organisations utilising automation to transform the way they work, spending less time on paperwork and more on patient care.
Read more in the recently published whitepaper Nursing healthcare back to health