Hai Robotics, provider of Autonomous Case-handling Robot (ACR) systems for warehouse logistics, will exhibit its automation technology at LogiMAT 2022, Europe's biggest annual intralogistics tradeshow, from May 31 to June 2 in Stuttgart, Germany.
The company will show how the ACR systems, a flexible goods-to-person solution that improves operation efficiency and storage density, could meet the current needs of Europe's warehouses and distribution centers.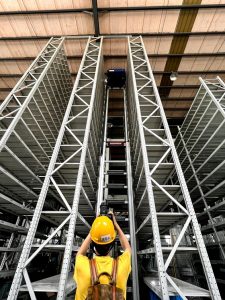 The live demo will be led by HAIPICK A42T, the tallest robot in Hai Robotics' ACR systems that can reach a max picking height of 10-meters. Featuring a telescopic lift, the robot can also descend to as low as 0.28m to pick totes and cartons stored on the bottom level of the shelf. It can carry 8 loads to feed HAIPORT, goods-to-person workstation, in one move. The robot has been titled the "Best in Intralogistics" in IFOY 2021.
HAIPORT, also to be displayed at LogiMAT, is another warehousing efficiency and throughput booster. With the ability to load four to eight cases in only three seconds from a robot, and unload the same number of cases in five seconds at the same time, a single workstation is able to handle up to 900 cases per hour, an order-fulfillment speed that is 16 times faster than robot-to-conveyor belt transport.