On the second day of the Consumer Electronics Show (CES) in Las Vegas several announcements on robot- and AI-innovations were made by exhibitors from a broad spectrum of countries.
Computer vision
RoboSense LiDAR exhibited its portfolio of smart LiDAR sensor solutions at CES 2022. Its star solution RS-LiDAR-M1 (M1) took the spotlight as 'the world's first mass-produced automotive grade' MEMS solid-state LiDAR, while Ruby Plus, which is a new 128-beam mechanical LiDAR made its international debut.
M1 was winner of the CES 2019 and 2020 Innovation Awards. In August 2021, M1 completed its first mass production and delivery in a designated project with a vehicle manufacturer. Since the manufacturer's start of production (SOP) in June 2021, more than 10 deliveries have been completed.
128-beam mechanical LiDAR Ruby Plus has its diameter reduced from 166 mm to 125 mm, and the height has been reduced from 148.5 mm to 125 mm. Ruby Plus has a longer detection range and higher detection accuracy, but has also reduced its overall weight and volume by more than 50% and power consumption by 40%,reduced from 45W to 27W.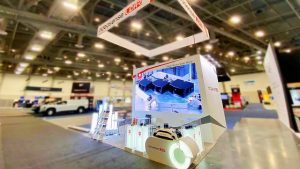 Service robots
KEENON Robotics showcases its line-up of service robots at CES 2022. Among this line-up of robotic products are the Delivery Robot series, Hotel Robot, Hospitality Robot and Disinfection Robot, with its next-generation Delivery Robot T8 meeting worldwide visitors for the first time.
At the booth visitors are greeted by Hospitality Robot – an intelligent and tour-guide robot that can escort visitors around a designated venue and bring them to their seats. The KEENON Delivery Robot series are built from the ground up to transform the food service industry and are designed to be assistants capable of helping staff to serve food and pick up used dishes and cups. They are equipped with AI technologies including SLAM automatic positioning and navigation technology.
KEENON Hotel Robot is geared toward hotels that aim to automate and streamline room and item delivery service. It has also developed a robot capable of disinfecting high-traffic areas and minimizing people's exposure to harmful microbes at those venues. Fitted with an Ultraviolet (UV) light and disinfectant dry-mist sprayer, the Disinfection Robot can kill 99.90% of germs and virus, providing maximum and high-efficient protection for public places such as hospitals and schools.
Cleaningrobots
Pudu Robotics has enhanced its product portfolio with the Afra C1 cleaning robot, which made its global debut at CES 2022. This marks Pudu Robotics' entry into the commercial cleaning robot market. Afra C1 is designed for a variety of cleaning scenarios and is capable of multiple functions, including scrubbing, sweeping, vacuuming, mopping, automatic water refilling and debris discharge, autonomous driving, auto elevator taking, e-gate and auto-gate passage, auto access control, and multi-floor operations. Afra C1 is also equipped with a built-in roller brush, squeegee and removable dust vacuum that allows it to adapt to various floor types in buildings and residences, including hard floors and soft carpet.
In order to adapt to the "Internet of Everything" trends, Pudu Robotics designed Afra C1 to be connected to various IoT devices, ranging from building elevators and e-gates to access control systems, communications, and upper-layer software.
Robotdog
DEEP Robotics exhibited its intelligent quadruped robot Jueying Lite2 with its partner Alisys at CES 2022 This is the second-generation dexterous intelligent robot dog created by DEEP Robotics for scientific research institutions, universities and technology enthusiasts, with improved motion control capabilities and enhanced intelligent interactive experience. Jueying Lite2 has been displayed during the exhibition by DEEP Robotics' 2022 CES partner Alisys, a company enhancing the capabilities of robots through cloud software and technology solutions with a focus on cloud solutions, artificial intelligence (AI) and blockchain.
AI
DeepBrain AI is showcasing its AI Human imbedded "AI Kiosks". This leverages Artificial Intelligence with its human-based AI avatars that inform, solve, and guide users through thousands of possible scenarios and real time interactions. AI Humans imbedded in the Kiosks are based on real humans with a variety of races and languages.
Camera
Doosan Robotics unveiled NINA ("New Inspiration. New Angle"). Designed with prosumer content creators and mid-level enterprises in mind, this camera robot system uses proprietary software to emulate professional cinematography skills and create production quality content. The NINA system automatically senses an object and calculates distance, allowing smooth and consistent robotic-assisted filming. Users will be able to pre-test angles by running simulations before actual filming to conserve time and save production costs.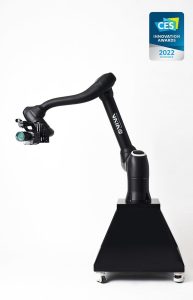 Cobot
The Industrial Technology Research Institute (ITRI), Taiwan's largest high-tech applied research institutions introduced AI, robotics, and ICT technologies at CES 2022. ITRI's featured technologies include the RGB-D AI Robot, a CES 2022 Innovation Awards honoree, a collaborative robot that integrates smart 3D vision as a built-in standard; the Autonomous Selfie Drone, which flies itself to take the best picture based on advanced photography techniques; and the Interactive Time Machine, which automatically creates a real-time full-body 3D interactive avatar and experience combining a user's motion, 3D model, surroundings, and display.