The IBM Watson Center Munich had it's Grand Opening on 16 Feb 2017 in the Munich's Highlight Towers. On the 23rd floor, IBM has impressive showcases with real moving robots and IoT devices. Our German correspondent Dr. Harald Karcher visited the robots several times from 2017 to 2020. He provides an exclusive insight in this center of robotic innovation for RockingRobots.
IBM's clients, start-ups, academia and partners are having direct access to IBM's open, cloud-based platform to test, develop and create the next generation of cognitive IoT apps, services and solutions. Leading automotive, electronics, healthcare, insurance and industrial manufacturers are working closely with the IBM Watson Center in Munich.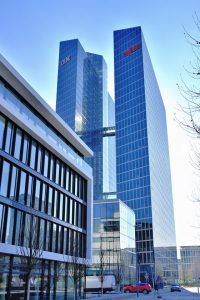 Companies in Munich's Parkstadt Schwabing: Left: Microsoft Germany HQ. Center: IBM Watson Center Munich. Right: Fujitsu Germany HQ
Two futuristic Highlight Towers in Munich with two highspeed elevators in the middle
Standing in the elevators, you can have a great view to Munich, Bavaria, and the near Alps. But they were riding so fast, that many guests and employees asked the building manager, to make them slower
View from the elevator: Center, white: Microsoft Germany HQ with roof terraces for their employees, GE Healthcare, and Amazon Germany HQ. Left, white: IDG Germany. Far away, white: Allianz Arena, owned by FC Bayern München
The IBM Watson Center Munich is IBM's largest investment in Europe in more than two decades
Smart Robots waiting for Visitors and Customers in the Center Showcase Area in Floor 23
With 25,000 visitors per year, co-located Business Partners and clients, and IBM experts, the IBM Watson Center is leading the global digitalization movement by showcasing innovation and the "Art of the Possible" in our immersive Client Experience journeys with industry use cases, partner & ecosystem solutions, IoT workplace demos, the IBM Garage and the cyber Security Range, says IBM's Andrea Martin
Andrea Martin is an IBM Distinguished Engineer and the Leader of the IBM Watson Center in Munich
Manufacturing is an important application field of IBM Cognitive IoT Technologies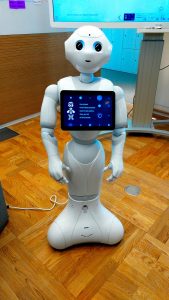 Cognitive Humanoid Robotics: Pepper Robot, named Eve, is standing at the entrance of the 23rd floor. Greeting clients visiting the Industry Lab. She can do basic small talk, motions and is able to tell facts about the Industry Lab. The Robot is connected to the Watson Conversation Service which enables Eve to understand natural language. Such robots can also be useful in hotel reception, retail, customer service and in the home
Heike Kammerer (right) is Head of Industry Lab and AAD at IBM Watson Center Munich
The Connected Car: From IBM Watson Center to BMW's WHQ it's only 2,9 km walking distance. To Audi's WHQ in Ingolstadt it's less than 80 km by car. Mercedes-Benz in Stuttgart is 230 km via Autobahn. IBM is working closely with many car makers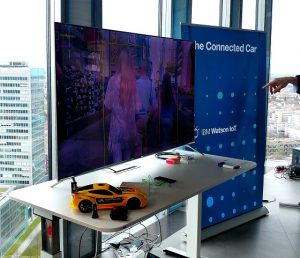 Bosch & IBM eCall Crash Detection: The Dongle in front is connected to a car's cigarette lighter. When it detects a car crash, it notifies a call center agent who contacts the driver and handles post-crash steps like alerting authorities, medical services and the insurance company. Powered by Watson IoT Platform integration and analytics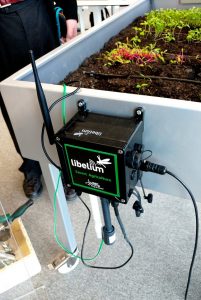 Libelium & IBM: Cognitive Agriculture: This Precision Farming solution captures a range of farming data using local sensors in soil and remote data such as weather and satellite images which are continually monitored. This is used for accurate and real time risk assessment and to automate claim processing triggered by events such as drought and disease. The data can also be used for farmers to increase yield by determining time for harvest, and improving harvest yield based on storm data. Data from IBM's The Weather Company provides real time monitoring of the farm. This also allows insurers to assess risk better and process claims pro-actively
Connected Drones (like this Altura Zenith Model from Aerialtronics) with high quality cameras can monitor farming and production facilities to increase productivity and prevent damage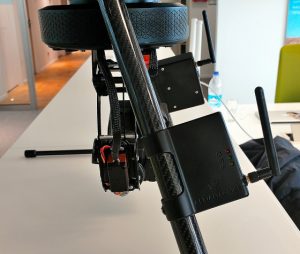 Aerialtronics from Katwijk, The Netherlands, is an end-to-end solution developer that utilises drones, artificial intelligence and IoT data to provide businesses with augmented and actionable insights that create a perfect synergy between aerial applications and everyday business operations.
Meshlium is the IoT Gateway to connect any sensor to any cloud platform. This Wireless Linux router can contain 6 different radio interfaces: WiFi 2.4GHz, WiFi 5GHz, 3G/GPRS, Bluetooth, XBee and LoRa. The Meshlium can also integrate a GPS module for mobile and vehicular applications and be solar and battery powered. His aluminium IP65 enclosure allows Meshlium to be placed anywhere outdoor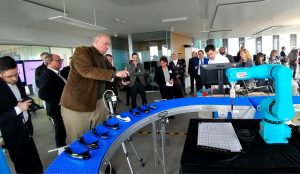 Cognitive Factory: Manufacturers today face an increasing number of product variants, increased complexity, fluctuating customer demand, shorter product life cycles and complex management of their supply chains. Smart robots can help to stay flexible and productive
Ethernet cameras can help to monitor and analyse the production process
COVIA Cognitive Visual Inspection Analytics counting all kinds of defects in the production line
RockingRobots.com's german correspondent Dr. Harald Karcher at the entrance of IBM Watson Center Munich's Smart Home Area
Smart Home Energy Management: Most IoT Data from the House Control Devices can be analyzed, monitored and controlled in the Cognitive Cloud. Working closely with KNX-Bus, EEBUS, WiFi, ZigBee and IoT Devices from Vaillant, GIRA, Somfy, enocean, Danfoss and more
Cognitive Elderly Care Knowledge Reactor: This solution with IoT devices from Samsung Smartthings and Nokia Withings enables elderly persons to stay in their trusted environment much longer than possible today, increasing their quality of life. It uses sensor data to track movement and behavior. The data collected through the Watson IoT Platform is evaluated by the Knowledge Reactor to alert care providers when needed. Watson Cognitive Services distinguishes between normal and abnormal behavior using advanced Analytics algorithms. This IBM solution can integrate with "off the shelf" sensors and gateways using the Watson IoT platform
This Prosthesis is equipped with pressure sensors that recognize the usage of this device. When connected to the Watson IoT Platform and Predictive Maintenance, usage can be analysed and recommendations made on how the prosthesis can be optimised
Some new robots and Raspberry Pi Mini Computers alias Raspi's just being tested
Annette Hodapp is Communications Leader at IBM Watson Center Munich
The presence of IBM Watson in Munich's Highlight Tower is attracting more innovative start-up-initiatives like de:hub. Powered by Audi, BMW, Daimler, IBM, Nokia, SAP, UnternehmerTUM and more
Susanne Klatten, Associate and Supervisory Board Chairwoman of UnternehmerTUM GmbH, speaking in the IBM Watson Center Munich. UnternehmerTUM was founded in 2002 by the entrepreneur Susanne Klatten. With more than 50 high-growth technology start-ups each year and its unique offering, it is the leading center for innovation and business creation in Europe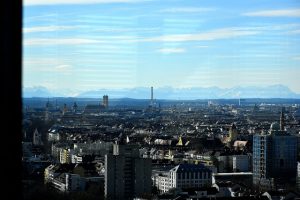 Great view from IBM Watson Center at the de:hub & UnternehmerTUM Event with Susanne Klatten. At the right end of the photo: Germany's highest mountain called Zugspitze with 2962 meters above sea level is only 125 km away. You can clearly see it from the IBM Watson Center when we have warm and dry winds from Italy, called the Föhn weather, the hair dryer weather. The alps then seem to be almost in touching distance
All photo's copyright Harald Karcher