Anna Dimitrova is the CFO of telecommunications provider Vodafone Germany. In an interview with RockingRobots, she explains how her tasks have changed apace with digitalisation and why she now sees herself more as a Chief Value Officer (CVO) – also with the help of Robotic Process Automation (RPA).
The Handelsblatt, one of Germany's leading business newspapers, recently named you one of the fifty most influential women in the tech industry in Germany. Congratulations …
Anna Dimitrova: I was surprised and, quite frankly, also very pleased.
But it also proves that the role of a CFO has changed fundamentally in recent years. A CFO is considered one of the most influential tech women – that would have been unheard of five years ago. What's the reason?
Dimitrova: Job profiles change when there is external impetus – it happens earlier in some companies, later in others. Digitalisation is a strong external impetus that is also changing the job profile of a CFO into a CVO (Chief Value Officer), certainly more quickly and also more profusely at a telecommunications company like Vodafone than at other companies. The core task of a CFO remains to ensure the financial integrity of a company, of course. But there are many more tasks ahead of us.
And what would they be?
Dimitrova: The whole spectrum of what employees, but also society, expect from a company has expanded. This also applies to the CEO, for that matter, who is no longer measured solely by whether the company's figures are right and the shareholders are satisfied. Today, a CEO must also be prepared to support the development of a country and also to be much more on hand. A CFO often becomes a mentor, a coach and also a business partner. Today, my view of the company is three-dimensional: from the top, from the front, and I look deep inside.
What does that look like in practice? Do departments approach you and make suggestions on how they can improve processes (keyword RPA)? Or is it the other way around? Do you offer solutions to the departments?
Dimitrova: Both. With a comprehensive business understanding in Finance, my team and I take on the role of stakeholder management for the entire company and its individual departments. We provide important decision-making support in the target achievement process and thus provide important food for thought. Digitalisation enables us to look at things from a completely different perspective and opens up new ways and means.
Could you give us examples?
Dimitrova: We started early on to expand the digital customer shopping and service experience and to develop it further. The second area pertains to internal processes, such as where we open a new shop and in which regions we expand network capacity. Another area is the digitalisation of purchasing – for example, the purchase-to-pay process.
And how do you implement these projects?
Dimitrova: First, we always look to see whether there are overarching processes already in the group that can be scaled. For example, we have over 20,000 employees in shared service centres that process standardised transactions. We can scale these as a group, but they are really only very simple processes. We also use the same SAP system worldwide, which also helps us to bundle resources across countries. Another example concerns margin and revenue assurance, i.e. where do I earn and where do I lose money. In the past, queries were collected with SQLs in the data warehouse, the data were exported to Excel and then a few macros written for evaluation. That is obviously no longer up to date. We have a lot of data in 26 countries – what if we could use analytics and automatic evaluation to simplify and accelerate this process, so that we can identify where there is a need for action at an early stage?
But there are different requirements in each country on how to calculate the value of a customer, for instance. Can all this be analysed with a tool that can then be used everywhere?
Dimitrova: The Key Performance Indicator (KPI) definition is the same in all countries. Let's take the example of Average Revenue per User (ARPU), which is also defined in the same way in all countries. Although each national company has its own data warehouse, our teams – such as Margin Assurance for example – are already organised in what are known as communities of practice. In these teams, best practice applications and experiences are exchanged and thus standardised tools are promoted.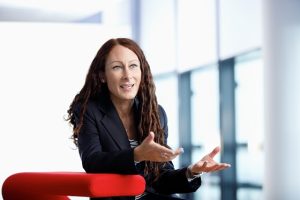 What challenges do you still face?
Dimitrova: Robotic Scale requires that the data are correct and also that the processes are standardised. My biggest challenge however is the fragmented IT structure. Vodafone has transformed itself over the years through acquisitions – in Germany, for example, we have acquired Arcor, Kabel Deutschland and Unitymedia, to name just a few examples. My dream is that in ten years' time, artificial intelligence will perhaps be smart enough to recognise the pitfalls and dangers of a fragmented IT landscape and turn it into a unified structure without making mistakes.
You talk a lot about the group which drives digitalisation. But are there projects that are implemented only at the country level?
Dimitrova: One market, often Germany, is usually selected for a pilot project, and then when a project has succeeded, it is rolled out in other countries. The contracts we have with the landlords for the base stations are a case in point. The review of those contracts entails going through a Robotics process. Another project was tested in Italy and was implemented in Germany last year. Here, artificial intelligence reads contracts with our customers and compares them with billing data. Sometimes, however, solutions are available only in Germany because the processes in the other countries are not yet ready for them.
What role do external consultants play?
Dimitrova: Different, external consultants can give important impetus, show benchmarks and also get involved in carrying out a project. When we introduced agile working methods and structures in the Digital Vodafone programme, we hired a consultancy firm  because we wanted to have the same for all markets. We also have system integrators who helped us implement projects. But there are also projects for which we engage experts from internal departments so that the know-how remains within the company. We also work together with universities.
How do you ascertain whether projects are successful for you?
Dimitrova: The technical term for this is post-implementation review, and here we are very precise. We look at KPIs and budgets but also at customer satisfaction. Time to market is, moreover, important, as are the financial KPIs of course. A new feature is the Agile Finance Management, as it is known, where we accompany agile projects from the finance side.
Do you ever discontinue projects?
Dimitrova: It happens, of course, and we are very consistent in this regard.
What is your take on using robots in shops? Does that make sense or not? You had a pilot project on this in the Netherlands …
Dimitrova: We experimented with it at the outset, as did many other companies, and used Pepper to that end. But that tended to make customers smile, as the possibilities are simply still too limited. The progress in the field is enormous, however, and we are monitoring it very closely.
How do you assess the status quo of digitalisation in Germany? Many studies show that we are more of a developing country on this front.
Dimitrova: I think it also depends on the industry —  e-commerce is certainly far ahead, while small and medium-sized industrial companies tend to lag behind. But the pioneers in the field of digitalisation are clearly the USA and China. That's where the big tech companies are based, and the political system in China is of course completely different. In Germany, we are in the middle of the pack in my opinion, including in terms of the number of start-ups or digitalisation projects. I would like to see us become a leading digitalisation nation, and I am convinced that we can be. What we lack is the courage to try new things and invest in new ideas – even at the risk of failure. Then there is the bloated bureaucracy. And we need the common will – that is, science, business, society and also politics – to get down to work on this.
Learn more about RPA and finance at the round tables organised by the CFO Automation Experience