Yesterday UiPath was officially listed on the New York Stock Exchange (NYSE) under the ticker symbol "PATH". On the first day the shares closed up 23% to $69, giving UiPath a market valuation of about $36 billion.
In a statement on its website, fouynder and CEO Daniel Dines said:
"Today is a big day for UiPath: we begin life as a public company on the New York Stock Exchange.
We started UiPath because we realized we could help humans reduce the time and stress that comes from menial, administrative business tasks. This work has made them robotic. With our technology, people have time to focus on the work they actually enjoy, the work they set out to do. We made robots so people didn't have to be robots.
We're living in a digital era. And yet, the vast majority of digital work up until this point has remained as tedious and repetitive as it was before the Information Age. Filing, documenting, data entry, data processing – organizations have invested in systems that have simply shifted the work people do from being done on paper to being done with computers.
People were never freed from monotony. Instead of tools for thought, they were given tools for busy work. Instead of removing work off their plate, they've been given dozens of new applications to occupy their days.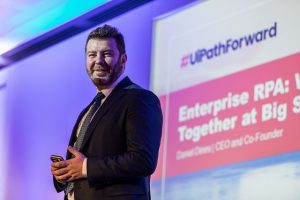 We have to do better. We can do better. And now with automation, we will do better.
Because, when humans and robots interact, the human is unburdened from repetitive, dull, monotonous tasks to think, collaborate, and solve the difficult problems businesses and individuals face today. UiPath is enabling the fully automated enterprise so this can happen.
Much like how self-driving cars emulate human drivers but still reuse the existing car and road infrastructure, UiPath has created a form of automation that emulates people performing a business activity on a computer. The software infrastructure, existing applications, and workflows are reused, thus reducing complexity and cost of implementation.
This new approach to automation is made possible by integrating and advancing a number of disparate technologies: AI (especially computer vision and machine learning), user interface automation, API integration, workflow automation, orchestration, and low-code development.
Our journey began with 10 people in an apartment in Romania. We grew in six years into a multinational business operating in nearly 30 countries, becoming one of the fastest growing modern enterprise software companies ever. It is a tribute to our product, our speed of innovation, and the market opportunity being perfectly aligned. But it is also a tribute to the people and the culture of UiPath.
Our humble beginnings guided us to find the most important value for us: humility. I am not saying we are humble; humility is an aspiration, and it is our operational framework. When you put humility at the core of your decision-making and communication process, it forces you to listen and adapt quickly. Being customer-centric is a natural progression. And customer-centricity keeps our humility in check and our work environment healthy.
If there is one thing I am proud of, it is our culture. If anything, this is going to be our legacy – a company built on the foundation of humility.
As much as we've accomplished, we recognize that there is a tremendous amount of work—and opportunity—ahead of us.
As a public company, our mission will continue to be accelerating human achievement by empowering people to delegate work to the robots. This is the promise of the fully automated enterprise. The future of work is human, it's creative, it's social, and it's dealing with the unexpected – together.
To our employees and the thousands of customers and partners who have turned to us: thank you for your trust in UiPath. We are here – and will continue to be here – to support you and your success.